So you have decided to start a career in digital marketing. You must be impressed by how fast the domain has progressed in just a few years and the varying number of career opportunities it offers. You must also be aware of the perks associated with working in the digital marketing industry – requires no specific graduate degree, involves creativity, good career growth, lucrative salaries, high demand in the years to come, flexible working hours, work from anywhere, and an opportunity to work as a freelancer as well. These factors are mostly what professionals consider when stepping into any new career.
But how do you get started? You cannot instantly land a digital marketing job; you need to gain the right skills first. And the best way to do so is by enrolling in a reputed digital marketing program. We would recommend you register for an online course as you can learn from the convenience of your home. Going to a physical location and learning from a local faculty may not give you a well-rounded learning experience. An online course, on the other hand, is designed by an industry expert and helps you learn the most up-to-date topics on digital marketing. As the internet is filled with such types of courses,  finding a reliable one itself is a challenge. So, in this article, we will introduce you to one of the best digital marketing courses available online – Simplilearn's Digital Marketing & Analytics certification online.
Read On To Find Out More About This Course!
Simplilearn's Postgraduate Program in Digital Marketing and Analytics
Simplilearn is one of the world's leading online Bootcamp and certification training providers. The edtech platform has trained over a million professionals worldwide and imparted them the most in-demand skills of the 21st century. You will find a variety of online courses on Simplilearn's website related to categories like data science, artificial intelligence, project management resume builder, cloud computing, software development, cybersecurity, and digital marketing.
The Post Graduate Program in Digital Marketing and Analytics is your one-stop solution to learn all the facets of digital marketing and build a foundation for analytics to achieve customer insights. This comprehensive 5-months online Bootcamp (5 to 10 hours per week) is offered in collaboration with IIIT Tiruchirappalli and helps you gain the Post Graduate program Certificate and Alumni Association membership from the institute. Simplilearn offers an industry-aligned curriculum with Harvard Business case studies, more than 25 course-end projects, and masterclasses by IIIT Trichy. What's more! You will get complete career support including access to recruitment drives, interview preparation, and resume assistance.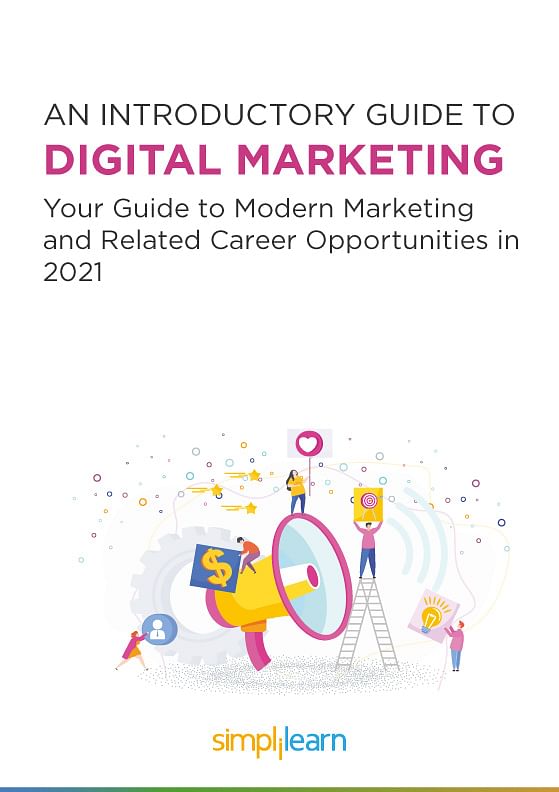 This in-depth digital marketing program lets you explore the world of social media marketing, search engine optimization, pay-per-click marketing, content marketing, web analytics, mobile marketing, email marketing, big data, and artificial intelligence. Here's how the learning path goes:
Fundamentals of digital marketing
Search Engine Optimization: Creating Winning Digital Ecosystems
Pay Per Click: Reaching Your Customers Efficiently
Web Analytics: Deciphering the Language of Digital Marketing
Social Media Marketing: Engaging the customer and Building Advocacy
The Fundamentals of Artificial Intelligence
Applications of Data Analytics
Digital Marketing Capstone
Additionally, there are level-up sessions by the world's leading industry experts like Dorie Clark and Mollie Spilman. The knowledge of digital marketing is incomplete without discussing some handy tools. So, this program covers a number of important digital marketing tools like:
Facebook Ads
Facebook Insights
Google Ad Manager
Hootsuite
HubSpot
Youtube Analytics
Google Ads
Microsoft Excel
The reason why you can rely on this program is that it covers a cutting-edge curriculum designed in guidance with industry experts. These trainers constantly look for the latest trends in the digital marketing field and infuse them into the course modules regularly to help you gain the most up-to-date information. They also bring current best practices and case studies to live sessions that fit into your busy schedule. Moreover, there is round-the-clock support from instructors and a community of like-minded professionals to help resolve all your doubts.
How to Apply?
Well, you can apply for this Digital marketing program in three easy steps. First off, you need to submit the application mentioning your introduction and why you would like to join the program. Next, based on your application, an admission panel will shortlist the candidates. If you are selected, you can begin the program within 1 to 2 weeks. Before submitting the application, make sure that you are eligible to apply. The eligibility criteria involve at least one year of work experience, a bachelor's degree in any discipline, and a background in digital marketing (not compulsory, but desired).
Now that we have given you a complete overview of Simplilearn's Post Graduate Program in Digital Marketing and Analytics, you just need to enroll and start learning. Though we have recommended this course, you are not bound to consider this program only. There may be more online courses on digital marketing that might be worth your try. But we would like you to compare the course features and other program details and make the right choice. That said, Simplilearn's course won't disappoint you at all.